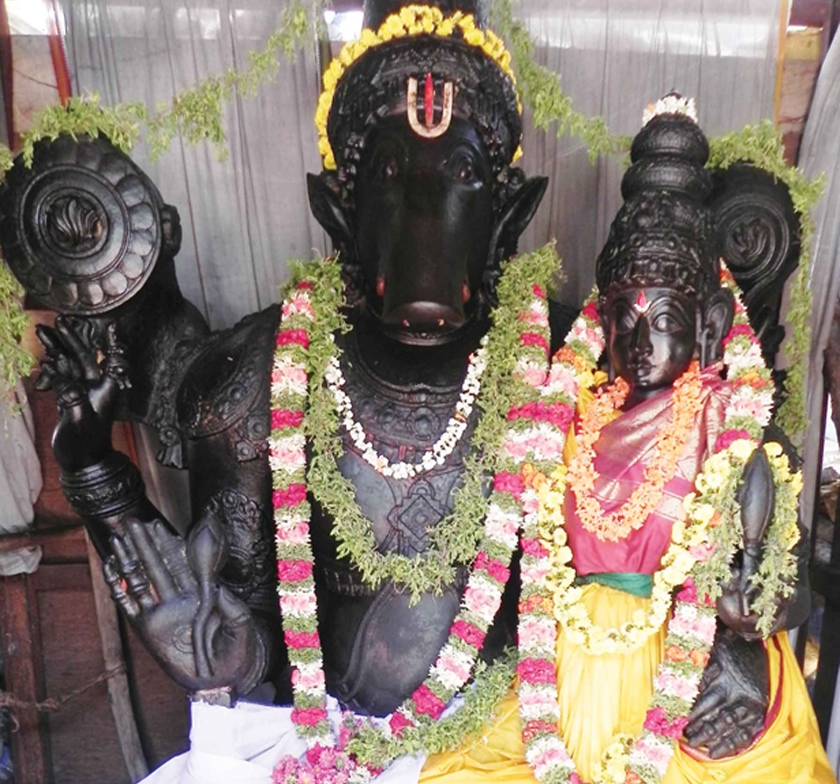 Of all the incarnations of Lord Vishnu, the pastimes of Lord Varaha and Lord Narasimha are the most interesting to me. To protect the faith of Prahlada and to show the world that He is everywhere, God appeared from a pillar and killed the demon Hiranyakashipu. There are many temples for this incarnation of God, Narasimha. But for Lord Varaha, who killed Hiranyakashipu' s brother Hiranyaksha, to protect the Earth, very few temples are built. Kallahalli Bhu-Varahanatha Swamy temple is one of those rare temples.
How to Reach

This wonderful temple is in Kallahalli, Mandya District, Karnataka and is very near to Bukanakere. It is in the area of the Kaveri back waters and on the left bank of Hemavathi. It is about 18 km from Krishnarajapet and about 50 km from Mysore. As signboards are put up for guidance, it is not difficult to reach the temple. As Varahanatha temple is situated in this village, the village is also known as Varahanatha Kallahalli.
Rare Deity

This temple is about 800 years old and belongs to the Hoysala age. It has recently been renovated with the help of devotees. Garbha-griha is quite big and the huge Deity is awe-inspiring. The beautiful Deity made of black stone is about 12 ft. tall, Mother Bhudevi sitting on His left lap, His arm around the goddess. He has placed his right foot on a platform below. The Lord is four- armed – two hands holding the conch and disc. The Lord sits in abhaya-mudra, assuring His devotees of His protection.
An inscription in front of the temple dates back to 1334 AD and belongs to Hoysala Ballala, the third. There is a verse in praise of Lord Varaha in this inscription. This inscription also says that the king made Kallahalli village an Agrahara and donated it to Raja Guru Gummata Deva in queen Demala Devi's name.